Bar/Bat mitzvah tour
Jews mark the coming of age with a ceremony called Bar/Bat Mitzvah,
conducted at the age of 13 for a boy and 12 for a girl. This ceremony marks the fact that they are no longer under the responsibility of their parents and are subjected to all the moral and religious requirements expected from adults. This is an incredibly special and emotional moment and we would love nothing more than to make this a unique and special memory for you and yours.
Itinerary
There are various life ceremonies in the Jewish world, this is without a doubt one of the most important of those. We will make it a journey to remember and look back to for the entire family while making sure the Bar/Bat Mitzvah will get what they wanted as well out of this.
No more "cookie-cutter" options, allow us to help you produce memories that will last a lifetime.
Let's start planning this the right way, just press the button below:
book now
Day 1: Old & new
We'll start our day in Jaffa, one of the most ancient port cities in the world. After wandering the quaint alleyways of this timeless gateway to the Holy Land, we'll descend to the port where Jonah was swallowed by the whale.
After a local lunch, we'll head into modern Tel Aviv, exploring the early neighborhoods such as Neve Tzedek and Rothschild Boulevard, and discovering the story of the pioneers who helped build this city, and country, from sand dunes into skyscrapers.
Overnight at hotel in Tel Aviv.
The Jaffa Hotel
A 5 star property set within a restored 19th century complex that once housed Jaffa's French Hospital.
see hotel
Day 2: A different Tel Aviv
Discover the incredible secret of the Ayalon Institute, built underground by the Zionist pioneers as the only way to produce ammunition in the War of Independence. We'll descend into the hidden factory and hear the story of the daring people who lived there.
We'll then have a short drive to Israel's Children's Museum for the "Dialogue in the Dark" activity. This unique program puts you literally into the dark, and helps you understand life for the blind community in an interactive way.We'll finish our day at Tel Aviv's Carmel Market for a late lunch, some shopping time and an unforgettable cooking workshop that will turn into a fantastic dinner.
Overnight at hotel in Tel Aviv.
The Jaffa Hotel
A 5 star property set within a restored 19th century complex that once housed Jaffa's French Hospital.
see hotel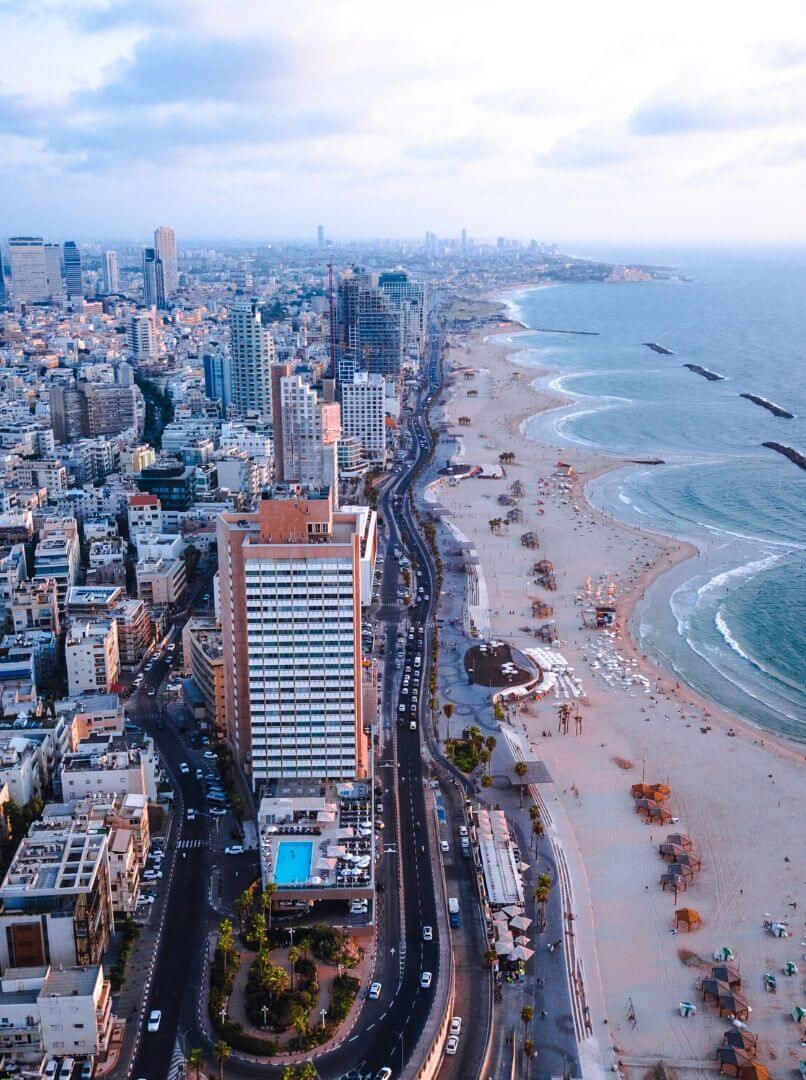 Day 3: Biblical Jerusalem
Jump straight into the atmosphere of ancient Jerusalem as we open the day with a walk on the 500-year-old city ramparts. We'll then visit the City of David, the most ancient ruins in Jerusalem, taking us back into the time of the Bible.
We'll see David's Palace and can walk underground in a tunnel built by King Hezekiah (great fun for kids!). We'll emerge from the tunnel at the Pool of Siloam, an important stop for Jewish pilgrims at the time of the Temple.
We'll ascend by foot in the spirit of the ancient pilgrims to the impressive excavations in the Davidson Center where we'll be able to transport ourselves 2000 years back in time and walk on the very stones that visitors would have walked on in the time of the Second Temple.
We'll pause at the Western Wall (also known as the Wailing Wall) to soak up the atmosphere, and after a great local lunch, we'll explore the Jewish Quarter (including more ruins from the Biblical period). Our day will conclude with a visit to the King David's Tomb on Mount Zion.
Overnight at hotel in Jerusalem.
Day 4: Adventures near Jerusalem
We'll drive a short distance outside of Jerusalem to the main highway into the city. Here we'll leave the comfort of our van behind to jump into jeeps and discover the daring story of The Burma Road – an incredible feat of engineering and creativity without which the Israelis may well have lost Jerusalem in the War of Independence.
Back in our van, we'll drive to the UNESCO world heritage site of Beit Guvrin-Maresha, where we'll explore the ruins from over 2000 years ago, and then have an opportunity to discover more for ourselves as we join the local archaeologists on a live dig.On the way back to Jerusalem, we'll stop on Tel Azeka to look out over the Ella Valley and imagine the ancient battle that took place there between David and Goliath.
Overnight at hotel in Jerusalem.
Day 5: Bar/Bat mitzvah & modern Jerusalem
The special day is here – mazal tov! Our bar mitzvah will feel like a star as he enters the Old City accompanied by drummers & shofar blowers as we head to the egalitarian section of the Western Wall.
We will be met by our Rabbi who will accompany the bar mitzvah and all of us through this most special ceremony.After an opportunity to change, we'll continue into modern Jerusalem and get hands-on as we make our own candles. By now we'll have worked up quite an appetite, so we'll continue to the Machne Yehuda market for a culinary tasting tour.
We'll conclude our day with a tour of the trail-blazing graffiti around the market and then will have the opportunity to create our own memories in a graffiti workshop. Overnight at hotel in Jerusalem.
Day 6: Delve into the desert
Our day will begin at the Ein Gedi desert oasis. We'll take a short walk in this marvel of nature and will pause by one of the waterfalls to discuss Saul and David's meeting here.
Our next stop will be the UNESCO World Heritage Site Masada. After a quick lunch we'll ascend by cable car and will explore the ruins of this remarkable desert fortress built by King Herod 2000 years ago, and discover the tragic end of its final defense. After all that walking, we'll relax at a private Dead Sea beach for some well-earned down time. Float on these saline waters and you'll come out rejuvenated – guaranteed!
As we head back to Jerusalem, our final stop will be at Genesis Land to transport ourselves back into the Biblical wilderness for a meeting with Abraham. We'll learn about life in the desert in ancient times and have the opportunity to ride a camel into the sunset.
Overnight at hotel in Jerusalem.
Day 7: Judaism in the Galilee
We'll start our day with a visit to Kfar Kedem. Donning traditional clothing, we'll get hands-on with Jewish life in the period of the Mishnah, enjoying an authentic lunch, riding donkeys, and enjoying various other activities.
Our next stop will be in Safed (Tzfat), one of Judaism's four holy cities. We'll wander its ancient alleyways and discover the secrets of the Kabbalah (Jewish Mysticism) which developed here 500 years ago. Expect beautiful synagogues, stunning vistas, and remarkable tales.
We'll then descend to the Sea of Galilee and end our day with a speed boat cruise on its stunning waters.
Overnight at hotel in Galilee.
Day 8: The Golan Heights
Today we'll ascend into the Golan Heights and drive to an observation deck near the Syrian border. We will look out over Syria and get an understanding of the complex relationship between contemporary Israel and its northern neighbor.
The Golan is filled with culinary treats and we'll have a visit to the famed De Karina chocolate factory for a chocolate making workshop and tasting. After lunch in the renowned HaBokrim steakhouse, we'll jump onto ATVs and go off-road for an adventure around the dormant volcanoes and former Syrian army bases.
We'll end our day by raising a glass to our trip during a visit to one of the best boutique wineries in Israel for a short tour and tasting.
Overnight at hotel in Galilee.
Day 9: Water security in the north
We'll begin with a somber visit to the Helicopters' Memorial where we can better understand the First and Second Lebanon Wars and their cost to the local population.
A short drive will then take us to Tel Dan where we'll be able to discover remarkable Biblical ruins as well as look out over the Lebanese border.
After a nearby lunch at the picturesque Dag Al Hadan restaurant on the banks of the Dan Stream, we'll cool off in the water with a rafting experience on the Jordan River.
Overnight at hotel in Galilee.
Day 10: Israel's coast
Our first stop today will be in the beautiful seaside grottoes of Rosh Hanikra. After exploring we will travel to Akko (Acre), the former Crusader capital and home to the famed Uri Buri restaurant, where we'll have a break for lunch. We'll then explore the spectacular ruins and tunnels from the time of the Crusaders, which earned Akko UNESCO world heritage site status.
Next is Haifa, Haifa, Israel's third biggest city, and home to the world center of the Baha'i faith. From a vantage point on Mount Carmel, we'll look down over their stunning gardens and enjoy the view over the Mediterranean.
After enjoying the views, we'll head to the port and board a Torpedo Boat for a truly unique tour of Israel's waterfront.
We took a group of 82 participants on a Family Mission through the Federation in Baltimore. Our bus was lucky enough to have Shai as our guide. Shai's attention to detail, enthusiasm and knowledge surpassed any guide I've had previously. He connected with each participant on the trip, making an effort to make everyone feel comfortable. We had many first timers on the trip who said they will be coming back to Israel due to Shai's impeccable guiding skills! If you are planning a trip to Israel you MUST use Shai!
He's truly the best in the business. I cannot say enough great things about Shai.
LET ME DO YOU A FAVOR – STOP – HIRE SHAI NAHON. We engaged Shai to help plan a trip of a lifetime for our son's Bar Mitzvah. We spent 9months planning every detail and making arrangements to ensure everything would be perfect. Shai is a gem. His attention to detail and knowledge of Israel was evident from the first time we spoke. He gave us comfort from day one that he was the right and only person to help make our dreams a reality. I would email Shai – he would respond immediately. I would ask for a phone call – he would take it late at night to account for the time difference. There was an extreme sense of comfort each time we talked to Shai. He cared about us and the experience we wanted to create while in Israel.
Just returned today from Israel with my family and many others from the Baltimore Associated after 10 days. Shai is the BEST. He has not guided me once, but twice in the last two years. If you are booking Israel Shai must be your guide. My family loves Shai. We will be returning in 2022 for my youngest son's Bar Mitzvah. Shai will be our guide when we return. There is a reason he is ranked number 1. You can stop researching others, Shai is number 1 for many, many reasons.
We just finished our 10 day private tour all over Israel with Shai. It was the first trip for me and our kids (ages 9 & 10), 3rd for my husband, and ~12th for my in-laws and all of our expectations were exceeded. Shai planned a trip that was appropriate for our kids needs/wishes and the adults alike, while taking us to so many special places, many of which family members hadn't experienced in their previous visits. Shai is extremely knowledgeable, friendly, patient, fun, humorous, and an all-around great guy! We all learned so much from him at every site/activity. He knew how to relate to each kid's personality and interests and our boys adored him. Shai helped us realize the trip of a lifetime and we will forever cherish the memories. We can't wait to plan our next trip to Israel with Shai leading the way. We highly recommend Shai for your trip to Israel!