Jewish Tours
There are many ways to create a tour focused on Judaism. Attached are some of the popular options divided for comfort into a 3 day, 5 day, 7 day and 10 day options. We can customize any tour to better suit you and would be happy to do so.
Itinerary
Israel is a home to the Jews. After countless persecutions and thousands of years spent in the diaspora and exile, the Jews have returned to the land of their fore-fathers. Due to this unique situation, the Jewish climate here is one of a kind and cannot be seen or experienced anywhere else in the world.
Visiting a synagogue or two isn't enough, one needs to explore the wide spectrum and versatility of Judaism in order to truly appreciate what has evolved here over time. We are just the ones to do that with so let us plan the perfect visit with you.
If you are Orthodox, Conservative, Reform, Non-Affiliated, Secular or simply interested we are the ones you want as we will make sure you leave with new insight as well as learn much more.
book now
Day 1: Old & new
We'll start our day in Jaffa, one of the most ancient port cities in the world. As we wander the quaint alleyways of this timeless gateway to the Holy Land, we'll visit St Peter's Church and discuss the vision he had at Simon the Tanner's House, before descending to the port where Jonah was swallowed by the whale.
After a local lunch, we'll head into modern Tel Aviv, exploring the early neighborhoods such as Neve Tzedek and Rothschild Boulevard, and discovering the story of the pioneers who helped build this city, and country, from sand dunes into skyscrapers. Overnight at hotel in Tel Aviv.
The Jaffa Hotel
A 5 star property set within a restored 19th century complex that once housed Jaffa's French Hospital.
see hotel
Day 2: Overcoming challenges in Israel's south
We'll begin our day with a drive south to a look out over the Gaza Strip. We'll discuss the history of the strip and understand some of the challenges for the Palestinians who live there and the Israelis who live nearby.
We'll then continue to visit one of the border kibbutzim and understand how they have adapted to live in the area, through meeting one of the local residents and touring their community. We'll also be able to enjoy lunch in the communal dining room and learn about kibbutz life.
We'll finish our day on a more positive note with a visit to the Salad Trail. Here we'll be able to discover how Israelis fulfilled the vision of David Ben Gurion (the first Prime Minister) to "make the desert bloom". Pioneering farming techniques developed here have revolutionized desert agriculture. After understanding how it is done, we'll be able to taste the results before returning to Tel Aviv. Overnight at hotel in Tel Aviv.
The Jaffa Hotel
A 5 star property set within a restored 19th century complex that once housed Jaffa's French Hospital.
see hotel
Day 3: A different Tel Aviv
Discover the incredible secret of the Ayalon Institute, built underground by the Zionist pioneers as the only way to produce ammunition in the War of Independence. We'll descend into the hidden factory and hear the story of the daring people who lived there.
We'll then have a short drive to the Peres Center for Innovation, a fantastic interactive museum highlighting Israel's start-up spirit. Young and old alike will love the opportunity to experience some of Israel's groundbreaking inventions. Next, we'll head to Tel Aviv's Carmel Market where we'll meet a local expert who will take us on a tasting journey through Israeli cuisine and the many immigrant populations that make up our society.
We'll end our day in the trendy neighborhood of Florentine, where we'll discover what the local street art can tell us about Israeli society, and maybe even create some of our own. Overnight at hotel in Tel Aviv.
The Jaffa Hotel
A 5 star property set within a restored 19th century complex that once housed Jaffa's French Hospital.
see hotel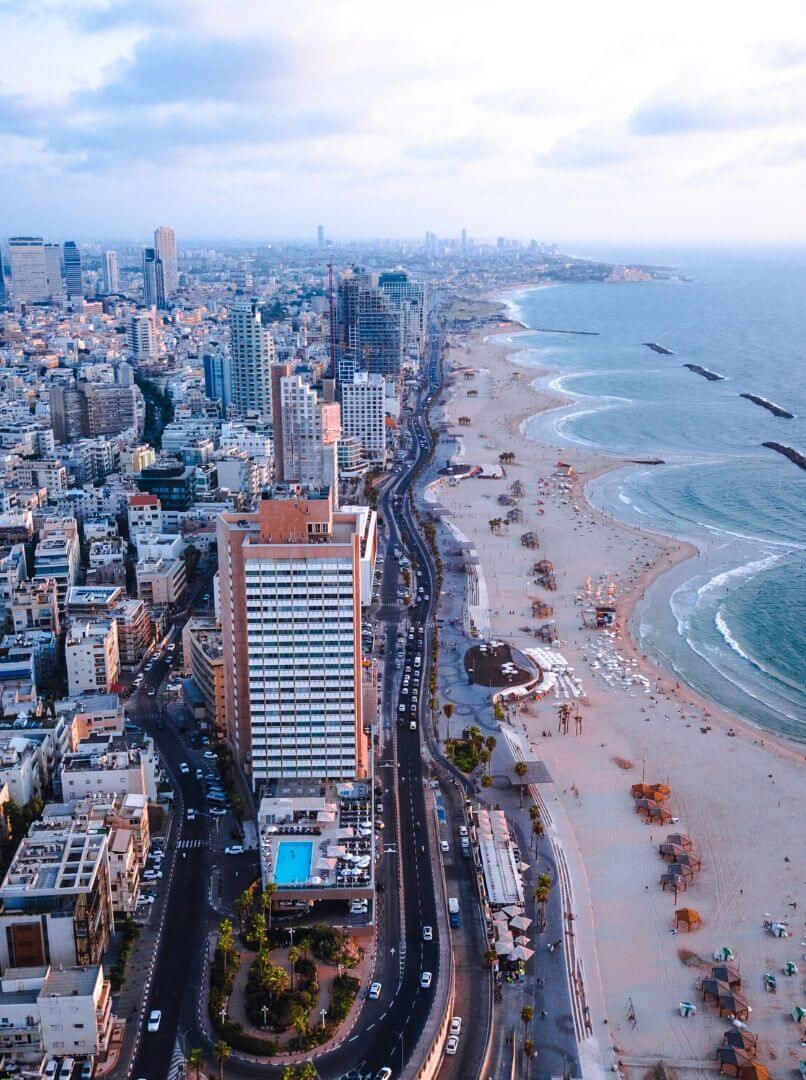 Day 4: Israel's coast line
We'll travel north to Caesarea, the regional capital that was built by King Herod the Great two thousand years ago. We'll explore the spectacular ruins, and understand the contribution of Caesarea to the Great Jewish Revolt.
We'll continue north to Haifa, Israel's third biggest city, and home to the world center of the Baha'i faith. From a vantage point on Mount Carmel, we'll look down over their stunning gardens and enjoy the view over the Mediterranean.
Our next stop will be in Akko (Acre), the former Crusader capital and home to the famed Uri Buri restaurant, where we'll have a break for lunch. We'll then explore the remarkable ruins and tunnels from the time of the Crusaders, which earned Akko UNESCO world heritage site status.
We'll conclude our day in the beautiful seaside grottoes of Rosh Hanikra. Overnight at hotel in Galilee.iv.
Day 5: Spirituality in northern Israel
We'll begin our day at Tzippori, the former Roman capital of the Galilee. We'll walk its ancient stones and marvel at its stunning mosaics.
Tzippori plays an important role in Judaism as the home of the codification of the Mishnah (the Jewish oral law).
We'll then bring the ancient ruins to life with a visit to nearby Kfar Kedem.
Donning traditional clothing, we'll get hands-on with Jewish life in the period of the Mishnah, enjoying an authentic lunch, riding donkeys, and enjoying various other activities.
Our day will conclude in Safed (Tzfat), one of Judaism's four holy cities. We'll wander its ancient alleyways and discover the secrets of the Kabbalah (Jewish Mysticism) which developed here 500 years ago. Expect beautiful synagogues, stunning vistas, and remarkable tales. Overnight at hotel in Galilee.
Day 6: Northern borders now & then
We'll begin with a somber visit to the Helicopters' Memorial where we can better understand the First and Second Lebanon Wars and their cost to the local population.
A short drive will then take us to Tel Dan where we'll be able to discover remarkable Biblical ruins as well as look out over the Lebanese border.
After a nearby lunch at the picturesque Dag Al Hadan restaurant on the banks of the Dan Stream, we'll ascend into the Golan Heights and drive to an observation deck near the Syrian border. We will look out over Syria and get an understanding of the complex relationship between contemporary Israel and its northern neighbor.
We'll end our day by raising a glass to our trip during a visit to one of the best boutique wineries in Israel for a short tour and tasting. Overnight at hotel in Galilee.
Day 7: Revolution in the wilderness
After checking out we'll drive south through the Jordan valley, part of which is in the West bank. We'll use the driving time to get a better understanding of the political situation in the West Bank and Israel's relationship with Jordan, before arriving at the Ein Gedi desert oasis. We'll take a short walk in this marvel of nature and will pause by one of the waterfalls to discuss Saul and David's meeting here.
Our next stop will be the UNESCO World Heritage Site Masada. After a quick lunch we'll ascend by cable car and will explore the ruins of this remarkable desert fortress built by King Herod 2000 years ago, and discover the tragic end of its final defense.
Before driving up to Jerusalem, we'll pause at a private Dead Sea beach for some well-earned relaxation. Float on these saline waters and you'll come out rejuvenated – guaranteed!
Overnight at hotel in Jerusalem.
Day 8: Biblical Jerusalem
Jump straight into the atmosphere of ancient Jerusalem as we open the day with a walk on the 500-year-old city ramparts. We'll then visit the City of David, the most ancient ruins in Jerusalem, taking us back into the time of the Bible. We'll see David's Palace and can walk underground in a tunnel built by King Hezekiah (great fun for kids!).
We'll emerge from the tunnel at the Pool of Siloam, an important stop for Jewish pilgrims at the time of the Temple.We'll ascend by foot in the spirit of the ancient pilgrims to the impressive excavations in the Davidson Center where we'll be able to transport ourselves 2000 years back in time and walk on the very stones that visitors would have walked on in the time of the Second Temple.
We'll pause at the Western Wall (also known as the Wailing Wall) to soak up the atmosphere, and after a great local lunch, we'll explore the Jewish Quarter (including more ruins from the Biblical period). Our day will conclude with a visit to the King David's Tomb on Mount Zion.
Optional (If on a Friday): In the evening return to the Western Wall plaza to experience the joyous 'Receiving the Shabbat' Jewish prayer service. Continue for a traditional Shabbat dinner at a local home or at the hotel. Overnight at hotel in Jerusalem.
Day 9: Adventures near Jerusalem
We'll drive a short distance outside of Jerusalem to the main highway into the city. Here we'll leave the comfort of our van behind to jump into jeeps and discover the story of The Burma Road – an incredible feat of engineering and creativity without which the Israelis may well have lost Jerusalem in the War of Independence.
Back in our van, we'll drive to the UNESCO world heritage site of Beit Guvrin-Maresha, where we'll explore the ruins from over 2000 years ago, and then have an opportunity to discover more for ourselves as we join the local archaeologists on a live dig.
On the way back to Jerusalem, we'll stop on Tel Azeka to look out over the Ella Valley and imagine the ancient battle that took place there between David and Goliath. Overnight at hotel in Jerusalem.
Day 10: Modern Jerusalem
Our day will begin in a reflective mood during a visit to Yad Vashem, Israel's national Holocaust Memorial. After exploring the museum we'll ascend to Mount Herzl – Israel's national memorial cemetery.
We'll visit some of the nation's most important figures and discuss their legacies, including Theodor Hertzl, Yitzhak Rabin, Golda Meir, Shimon Peres and many more.
After enjoying the sights, sounds, smells and most importantly, tastes, at the Machne Yehuda open-air market, we'll end our day with a visit to the world-class Israel Museum, home of the Dead Sea Scrolls. We'll use the museum's models and displays to trace our footsteps around Israel as our trip sadly comes to a close.
When you are taking in such an amazing part of the world, I think it could be very easy to be overwhelmed.. emotionally, spiritually and yes, physically! On our first trip to Israel, my family was fortunate enough to have Shai as our guide. Shai made our experience better than I could have imagined. His knowledge, his demeanor, and his passion for the area were shown every day of our trip. Our 9-year-old daughter was so engaged with his teachings, that she was the first one on the bus in the morning ready to learn! Thank you Shai for making our first trip to Israel so amazing that it will certainly not be our last.
judah t
I was super impressed by Shai's depth of knowledge and in particular his ability to express that knowledge (of such complex history) in a simple and suitable manner that you can actually follow. It was a real history lesson, but in a manageable and interesting way. This is Shai's true talent. What amazed me the most is that he was able to capture and sustain the attention of my 3 daughters as well as the adults! This is not an easy task to have such a wide age range with varying levels of maturity and interest, but Shai captured our attention from beginning to end. Shai is also an easy person to be around, someone you like to be friends with. I would definitely hire him again for my next visit to Israel! He made our trip so much better than I expected because of the history and stories he shared.
synthia C
We were looking for a trip that would be educational and entertaining for me and my husband as well as and our 8 and 6 year olds. Shai put together a unique, astonishing plan for us and we couldn't have been more pleased. He gave us the perfect balance of information to satisfy the curiosity of both the adults and the children, and was consistently flexible to ensure that everyone was enjoying themselves to the fullest and getting the most out of the experience. We saw Jerusalem from uncommon perspectives and had time to explore the Dead Sea, Ein Gedi and Masada as well. His helpful suggestions and ideas along the way were invaluable. We will definitely be contacting Shai to help us organize another trip next time we visit Israel. There is so much more to see and learn, and we'd love to have the privilege to do that with Shai again!
sarenne s
Shai's people met us at the airport and for the next two weeks, Shai guided us through Israel. He was so knowledgeable about all the sites and took excellent care of us. All the bible came alive, he was so well informed about all the archeology sites and we enjoyed all the lodging., We feel as though the folks at Canaan Village were old friends, I so wish I could return for another visit with Shai as our guide.
kim j